Back to Pickle Ball and Working Out
Patient: Jeff R
Category: Hip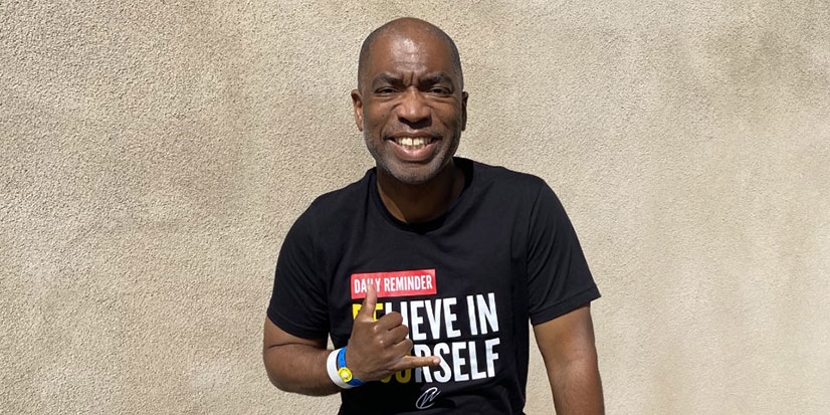 " From check in to the floor nurses and the chaplains who prayed with me before surgery, everybody was fantastic and it was just an amazing process."
Jeff Riley is an active middle school math teacher in Huntington Beach, and coach for his school's 8th grade basketball team. So, when his left hip started hurting in July 2021, he was surprised, and sought care from his primary care physician.
"My doctor prescribed physical therapy for me but I honestly didn't go," Jeff shared. "But, the pain got so bad over time that I couldn't even put my socks on by myself."
Jeff asked his friends and student network what specialist they would recommend, and he ultimately selected orthopedic surgeon Matthew Siljander, MD, a total joint specialist with Hoag Orthopedic Institute. An MRI and exam concluded that Jeff had degenerative arthritis in his left hip, which meant he was a good candidate for a total hip replacement.
"I had never needed surgery or care like that before so I was pretty nervous to go to a hospital, but Dr. Siljander and a former student put my mind at ease and explained what I should expect," Jeff shared.
On April 21, Jeff underwent a total hip replacement at Hoag Orthopedic Institute with Dr. Siljander.
"From check in to the floor nurses and the chaplains who prayed with me before surgery, everybody was fantastic and it was just an amazing process," Jeff shared. "I used the virtual reality (VR) goggles before going into surgery and that was really cool, and a nice distraction," he added, about HOI's VR offering to help patients relax and prepare for surgery.
Jeff was discharged the same day as his surgery to continue his recovery at home. He says he was pleasantly surprised to find he was walking right after surgery and even driving to get a haircut four days later.
"I followed all the discharge instructions, from the medication - which I only needed for four days - to PT twice a week, and I am feeling great," Jeff said. He added "Getting into bed and my van is so much easier than before surgery. You guys are a godsend, I feel really blessed."
Now Jeff is using his summer break to get back to being active before school starts. "I'm only 51 and I have a lot of mileage to go, so I'm glad I had my surgery now," he said. "I plan to get back to pickle ball, light jogs and working out at Trim Fitness Studio. Just being active and not being in pain from walking has been huge for me."