Back to Mobility
Patient: Shannon Brennan
Category: Hand & Wrist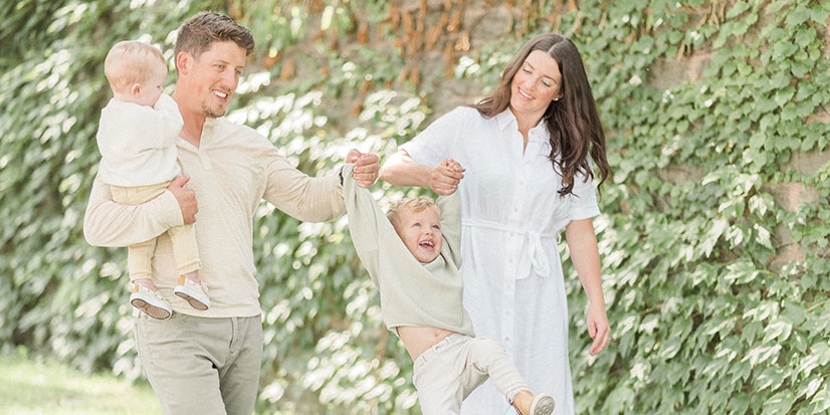 " I felt so confident with Dr. Rose and the care I was receiving at Hoag Orthopedic Institute," said Shannon. "Everyone was really nice and friendly, which was so different from what I was used to. I was nervous about it being outpatient and leaving right after surgery, but it was so nice to head home afterwards."
It's been a long road to recovery for Shannon Brennan's tricep, but despite numerous set backs life has thrown her way, the mother of two is finally feeling back to normal after six surgeries over 12 years.
The Canadian native initially hurt her left arm during a car accident when she was 18, but due to and due to the emergency situation, underwent surgery by a pediatrician who wasn't well versed in upper extremity care, which unfortunately resulted in a triceps tear.
"The initial surgery pulled my muscle apart and I've had so many surgeons and doctors tell me 'This is the worst we've ever seen' and 'You'll never be able to do normal activities again' which was really sad," said Shannon.
After her husband's work led them to California in 2019, Shannon thought she was through the worst of her triceps pain. However, during her family's visit to Los Angeles, a rogue palm branch knocked into her while she was holding her son during a bus tour, which ripped her triceps once again.
"After my initial ER visit, I was told I needed to find a surgeon to look at my arm and I was really scared because I've never had to pick my own doctor before," Shannon explained about how different the U.S. healthcare system is compared to her home country. "After searching through my benefits plan and the researching doctors online, I found Dr. Nicholas Rose with Hoag Orthopedic Institute and thought, if he can treat professional athletes and get them back on the field, then maybe I have a fighting chance of getting mobility back in my arm."
In December 2019, Shannon underwent minimally invasive arthroscopic surgery to reconstruct her torn triceps with Dr. Rose at Hoag Orthopedic Institute Surgery Center – Newport Beach.
"I felt so confident with Dr. Rose and the care I was receiving at Hoag Orthopedic Institute," said Shannon. "Everyone was really nice and friendly, which was so different from what I was used to. I was nervous about it being outpatient and leaving right after surgery, but it was so nice to head home afterwards."
Shannon, who lived with her husband and young son in Rancho Cucamonga at the time, said the drive to Newport Beach was worth the effort and Dr. Rose helped her find a great local physiotherapist who she saw three times per week after her surgery.
"I didn't mind taking a day off for appointments in Newport Beach because I know I was getting proper care and it was well worth it for my experience," she said.
Now more than a year after her tricep surgery, Shannon has been recovering in her hometown of Ontario Canada with her family, recently welcoming her second child, and has been getting back into activities she loves as much as she can amid the COVID-19 lockdown.
"I am loving doing regular things like riding my bike, throwing the baseball with my son and holding my children, without fear of re-injuring my arm," Shannon said. "I used to feel like I was missing out on a lot of things and would get discouraged when people said 'You're never going to be normal again,' but Dr. Rose gave me extra confidence to get through it and here I am."
Special thanks to the Photography courtesy of: Lesley Bogan, Pure Aperture Photography