Hoag Orthopedic Institute Announces Title Sponsorship of New KLAA Radio Show 'Doctor in the Dugout'
Category: Blog
Posted On:
Hoag Orthopedic Institute Sponsors Angels' Pre-Game Injury Report and New Show Hosted by Dr. Alan Beyer on Angels Radio AM830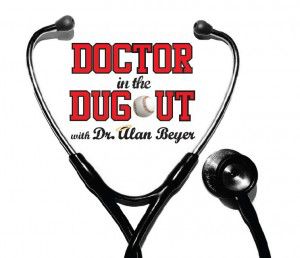 HOI is proud to announce its title sponsorship of Doctor in the Dugout, a new radio show on KLAA Angels Radio AM 830, hosted by Hoag Orthopedic Institute (HOI) surgeon, founding partner and executive medical director, Dr. Alan Beyer. The Institute has also sponsored the Injury Report for the Angels' Pre-Game show on KLAA.
Doctor in the Dugout, a 30 minute radio show, is currently slated to run for 24 weeks beginning July 26th, and will air on Saturdays prior to the start of the Angels' Pre-Game show. Featuring Dr. Beyer's distinctive wit, Doctor in the Dugout will provide an entertaining twist on sports medicine-related topics, current injury reports and will feature special guests and other surprises.  In addition to baseball news, the program will cover a variety of current events in the world of sports and sports medicine.
"We are very excited to be the title sponsor for the 'Doctor in the Dugout' show," said Dereesa Reid, CEO of Hoag Orthopedic Institute. "As a hospital specializing in all things orthopedic, including sports medicine, we see this as a great opportunity to provide listeners with access to entertainment and healthcare information from our resident sports guru, Dr. Beyer."
The injury report segment, also sponsored by HOI, will air during the Angel's Pre-Game show on KLAA and will feature occasional reports from Dr. Beyer as well on current impactful injuries affecting key players.
"I've been an avid sports fan my entire life, and it's that love of sports that actually drove me to practice medicine," said Dr. Beyer, host of the new show. "When the scouts didn't come knocking on my door, I figured sports medicine was a close second, and I'm thrilled to be sharing my love of sports and medicine with a community of likeminded sports junkies."
AM 830 KLAA is a locally owned and operated radio station which provides a live sports and sports talk format serving Southern California.  The flagship station for the Los Angeles Angels baseball and the Anaheim Ducks NHL hockey teams, KLAA also broadcasts live NFL and Notre Dame football games.
To learn more about KLAA, please visit: http://www.am830klaa.com. For more information about HOI, visit: http://orthopedichospital.com/.