Hoag Orthopedic Institute's Chief Nursing Officer Joins Leadership Program to Improve California Health Care System
Category: News
Posted On:
Kanoe Allen Joins Team of Health Care Professionals to Participate in Two-Year Fellowship to Improve the State's Health Care System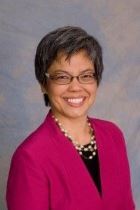 Hoag Orthopedic Institute (HOI) is proud to announce that Kanoe Allen, RN, MSN, chief nursing officer at HOI, has been selected to join a group of 30 health care professionals in a Leadership Program led by the California HealthCare Foundation. The two-year fellowship offers clinically-trained health care professionals the experiences, competencies and skills necessary for an effective vision and leadership of California's health care system.
Allen will participate in a total of six, four-day seminars over the duration of the program, which aims to aid fellows in developing improved leadership skills that will positively influence the environment and dynamics of the health care system. Additionally, Allen will engage in a multitude of inter-session activities such as case studies, conferences and peer group interactions with fellow participants.
"It is a true honor to be chosen to help transform California's health care system," said Allen. "I am confident that this program will provide participants with the tools and insights necessary to continue to provide high quality, high efficiency and low cost health care to our state's communities."
Previously, Allen served as director of the Advanced Endoscopy Center and GI Lab and oncology liaison at Hoag Hospital before joining HOI nearly five years ago as the chief nursing officer.
"HOI is excited to have our CNO participating in this state-wide leadership collaboration," said Dereesa Reid, CEO of Hoag Orthopedic Institute. "Kanoe shares HOI's commitment to providing high quality health care and shaping value-based health care reform."
The California HealthCare Foundation's Leadership Program aims to prepare health professionals to assume significant roles in the improvement of California's health care system. The program seeks to enhance the leadership and management skills of health professionals who have demonstrated leadership ability and to create a network of leaders who will provide mutual support for improving the health care system for all California citizens.
Hoag Orthopedic Institute specializes in the most advanced orthopedic surgery, total joint replacement surgery and spine surgery, and is one of the only specialty hospitals in the United States caring exclusively for orthopedic patients.
For more information about HOI, visit: http://orthopedichospital.com.