Let Christmas Lights Brighten Your Spirit... Not Break Your Back
Category: Blog
Posted On:
Stay Safe When Decorating This Holiday Season
Decking the halls for the holidays has long been a tradition that countless families across the U.S. look forward to. But government reports have shown that the custom is getting progressively more dangerous.
According to the U.S. Consumer Product Safety Commission (CPSC), in November and December of 2010, more than 13,000 people were treated in U.S. emergency rooms for injuries related to holiday decorations. That's up from 12,000 in 2008 and 2009, and 10,000 in 2007.
Dr. Steven L. Barnett and his colleagues have treated their fair share of breaks and bruises and urge caution for those braving the ladder this holiday season.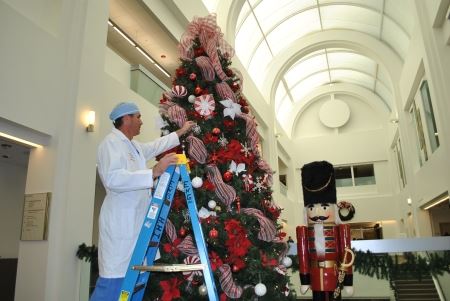 5 tips to help make holiday decorations safer:
If you're over 50 years old, you probably shouldn't be on a ladder period
Wear sensible shoes – preferably lace-up shoes that are tied securely
Do all your prep work when on the floor – this limits the amount of time spent on the ladder
Remove any hazards that might inhibit your ability to move freely in your workspace
Set the ladder at the correct angle according to manufacturer specifications and make sure the feet are secure