Hoag Orthopedics to Offer New Fellowship in Foot and Ankle Surgery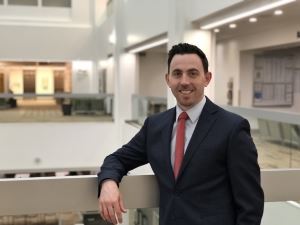 To further its commitment to training tomorrow's orthopedic surgeons, Hoag Orthopedic Institute (HOI), one of the largest providers of orthopedic care in the nation, has announced that Hoag Orthopedics, its physician-led non-profit research, education and community service arm, will offer a new Foot and Ankle Fellowship Program beginning in 2021. The Foot and Ankle Fellowship Program will be added to the organization's three existing surgical programs: Adult Reconstruction Hip and Knee, Spine Surgery, and an ACGME accredited Sports Medicine program.
"We are excited about this tremendous opportunity to train future orthopedic surgeons through Hoag Orthopedic Institute's Foot and Ankle fellowship and are grateful for the generosity of the donors who've made this possible with their support of Hoag Orthopedics," said Jonathan Kaplan, M.D., a fellowship-trained orthopedic foot and ankle surgeon at HOI and Program Director for the Foot and Ankle Fellowship. "Our goal is to provide HOI fellows with hands-on, in-depth experience only available at the most unique programs in the country."
During the course of the Program, Foot and Ankle fellows will get broad exposure to both non-operative and operatively treated foot and ankle patients. It is expected that their surgical experience will exceed 700 cases including an array of surgical procedures in accordance with the Foot and Ankle Curriculum set forth by the American Orthopedic Foot and Ankle Society.
The faculty at Hoag Orthopedic Institute come from diverse training backgrounds and have extensive experience in their preferred surgical techniques, which will allow fellows to train on a multitude of approaches and surgical treatment techniques. The Hoag Orthopedics faculty are considered in the upper echelon of foot and ankle specialists in the area and will provide the fellows with exposure to an array of cases including advanced and cutting-edge techniques with total ankle replacements, complex deformity correction, foot and ankle trauma, as well as minimally invasive surgery of the foot and ankle, among others.
This unique experience at Hoag Orthopedic Institute also offers the fellow exposure to hospital administration, value-based care programs, and training in various technology programs including a sports medicine radio show and social media training for the medical professional. The fellow will also rotate with the team physician for the Los Angeles Chargers who is tri fellowship trained in trauma, sports medicine, and foot and ankle surgery.
"We are very excited to add another fellowship program to enhance our innovative orthopedic training to the surgeons of tomorrow," said Carlos Prietto, M.D., chair and founder of Hoag Orthopedics and a founding member of Hoag Orthopedic Institute. "We are confident that through our direction and model of care at HOI, our orthopedic fellows will become some of the most elite surgeons of their generation."
To apply for the fellowship or for more information, please visit
www.hoagorthopedics.org