Hoag Orthopedic Institute Releases 2019 Outcomes Report
Posted On:
Written By:

HOI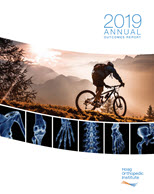 Hoag Orthopedic Institute is one of the premier providers of orthopedic care in California and beyond
IRVINE, Calif. – September 11, 2019 – For the past seven years, Hoag Orthopedic Institute (HOI), has performed the most joint replacement procedures of any provider in California. HOI opened in 2010 with the vision of providing Orange County communities with superior orthopedic care through excellence in outcomes, clinical innovation, research and advocacy. To ensure we continue to deliver on our vision, HOI has published our seventh annual outcomes report which provides detailed information about the previous year's clinical outcomes, surgical volumes, care quality metrics, infection and readmission rates, and patient satisfaction scores along with other key performance indicators.
HOI epitomizes a value-driven model with a strong focus on quality, while controlling cost. HOI's mantra of "We Get You Back to You" is also a pledge to each HOI patient.
In addition to the data on infection rates and volume, the report also highlights quality improvement initiatives, distinctions and innovations, details on Hoag Orthopedic Institute's education and research program, compelling patient testimonials, and much more.
"Our drive to truly be the very best has enabled us to achieve and sustain an unprecedented, higher level of orthopedic care for our patients," said Dr. Robert Gorab, Chief Medical Officer of HOI.
Patients are becoming increasingly aware of the importance of selecting physicians and facilities with proven track-records of high-quality care. Hoag Orthopedic Institute continues to be transparent in sharing clinical outcomes data in an easy-to-use format to be used as a tool for patients and physicians to confidently receive the best orthopedic care.
Hoag Orthopedic Institute's 2019 Outcomes Report has also become a valuable resource for orthopedic care providers internationally who seek ways to improve their standards of care and to learn from HOI's unique model.
"For patients, HOI's "We Get You Back to You" mantra embodies hope and healing. For the HOI family, it personifies our way forward in continuing innovations, nurturing a patient-centered healing environment and providing outstanding outcomes," said Sopida Andronaco, RN, Director of Performance Improvement and Clinical Outcomes for HOI.
For more data, and to read Hoag Orthopedic Hospital's 2019 Annual Outcomes Report, visit: www.HOIoutcomes.com.