Hoag Orthopedic Institute Opens News Specialty Clinic in Tustin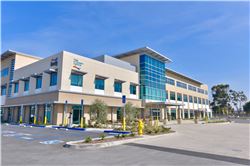 TUSTIN, CA (June 10, 2019) – To improve access to highly specialized orthopedic medical care in Orange County, Hoag Orthopedic Institute (HOI), one of the largest providers of orthopedic care in the nation, announced it has opened a new specialty care clinic in Tustin. The new location, housed within Hoag Health Center - Tustin Legacy is located at 15000 Kensington Park Drive, Suite 350, Tustin.
Now open to serve patients, the new HOI clinic will provide residents with access to physicians who specialize in general orthopedic care as well as sports medicine, joint, spine and hand surgery. The new facility also features a casting suite for fracture repair as well as on-site X-ray services.
"As we expand our footprint throughout Orange County, it was important to open specialty clinics in areas where residents have limited resources for their orthopedic injuries or conditions," said Jennifer Mitzner, president and CEO of Hoag Orthopedic Institute (HOI). "Our clinic represents the first full-service general orthopedic office in the area, meaning residents will not have to leave their community to receive high quality orthopedic care."
Orthopedic physicians Dr. Taylor Dunphy from Newport Orthopedic Institute along with Dr. Travis Scudday and Dr. Joshua Schwind from Orthopedic Specialty Institute two of the largest orthopedic practices in Orange County, which are affiliated with HOI, will staff the Tustin location. In addition, Dr. Ying Chi from OC Hand Surgery, also an HOI-affiliated physician, will be joining the new clinic.
Hoag Orthopedic Institute is comprised of an inpatient hospital in Irvine and three ambulatory surgery centers in Newport Beach, Mission Viejo and Orange.
For more information on our new Tustin location, please visit:
https://www.hoagorthopedicinstitute.com/our-locations/hoi-clinic-tustin/
###
About Hoag Orthopedic Institute
Hoag Orthopedic Institute (HOI) is located in Orange County, California. It consists of a specialty hospital located in Irvine and three ambulatory surgery centers in Newport Beach, Mission Viejo and Orange. HOI has more than 300 physicians on staff, including more than 80 orthopedic specialists. HOI ranks in the 99th percentile for patients' likelihood to recommend the hospital and 98th percentile for overall hospital rating, according to Press Ganey's national database of hospitals. HOI focuses in the treatments of the knee, hip and spine disorders, and takes pride in specialty care related to sports medicine, orthopedic trauma and extremities care. Since opening in 2010, HOI's hospital has been named by U.S. News & World Report and Becker's Orthopedic, Spine & Pain Management Review as one of the top orthopedic hospitals in the nation. Most recently, HOI was recognized by the Centers for Medicare & Medicaid Services (CMS) as one of 112 hospitals nationwide, and one of 10 in California to earn the highest, five-star rating for overall quality of care. For more information, visit https://www.hoagorthopedicinstitute.com/.