Former NFL Strong Safety Turned Orthopedic Surgeon, Dr. Damien Richardson, Joins Medical Staff of Hoag Orthopedic Institute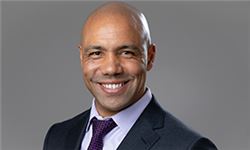 IRVINE, Calif. – Orthopedic surgeon Damien Richardson, M.D., who played for seven years in the National Football League as a strong safety for the Carolina Panthers, has joined the medical staff of Hoag Orthopedic Institute in Irvine, California, one of the largest providers of orthopedic care in the nation.
Dr. Richardson played from 1998 to 2004 for the Panthers, and his seven- year NLF career included a National Football Conference Championship and a trip to Super Bowl XXXVIII. Before he was drafted by the Panthers, he was a three-year starter for the Arizona State University Sun Devils.
After his football career was cut short by severe neck and knee injuries, Dr. Richardson attended medical school at the University of California San Francisco. He then completed a master's degree in biostatistics and epidemiology at the Harvard T.H. Chan School of Public Health.
Dr. Richardson completed his residency in orthopedic surgery at the University of Arizona College of Medicine. After his residency, he then returned to Harvard to complete his foot and ankle fellowship at Massachusetts General Hospital.
"Even before being drafted into the NFL, I had planned to become a physician," said Dr. Richardson. "Orthopedic surgery felt like a perfect fit considering my experience on the field. Joining this group of highly respected physicians at Hoag Orthopedic Institute feels like being a part of a Pro Bowl team of orthopedic surgeons."
Dr. Richardson, a southern California native, joined the practice at Newport Orthopedic Institute as an orthopedic surgeon and foot and ankle specialist.
Hoag Orthopedic Institute is the official medical partner of the NFL's Los Angeles Chargers.