Students from Huntington Beach, Buena Park get inside look at orthopedic medicine during mock surgery at Hoag
Posted On:
Written By:

Greg Mellen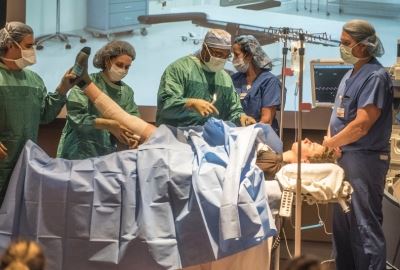 IRVINE In "Back to Play," a young baseball player with a torn meniscus knee injury shared with Huntington Beach and Buena Park students the various stages and professionals he will encounter — from the athletic trainer on the field through surgery and rehabilitation.
About 100 Edison and Buena Park high school students got an inside look at orthopedic medicine Tuesday, May 9, when they attended the "Back to Play" performance and mock surgery scenario at Hoag Orthopedics.
"Most young people know the obvious medical careers," said Kathy Johnson, president of Vital Link, a nonprofit that introduces youth to career opportunities. "Our model shows the entire procedure so they see careers and open awareness."
"We're exposing them to a little spectrum within orthopedics through a sports metaphor," said Dr. Carlos Prietto, interim CEO at the Hoag facility.
During the performance the athlete, played by Jake Tallo, a 16-year-old actor from New York, encounters 11 medical workers, including the trainer, technologists, a surgeon and operating room crew, a physical therapist and strength and performance coach.
The parts were played by actual medical personnel. After their acting roles, the performers stepped off the stage and introduced themselves and talked about their stories and their jobs.
"When I was in high school I thought there were three careers in medicine: doctor, nurse and receptionist," said Camille Borges, a clinical research coordinator, during her self-description.
A Laguna Beach High and UC Berkeley graduate, Borges is planning to pursue a career as a physician's assistant.
"I wish I had something like this when I was in high school," said Neal Becerra, who as a scrub technician sets up operating rooms and makes sure instruments are available and sterile.
He said he found that job almost by accident.
Among the students at the event was Melissa Pineda, 17, a junior at Buena Park High, who came with her medical careers class.
"I want to see what happens behind the scenes," said Pineda, who hopes to attend UC Irvine and study to become a registered nurse.
Courtney Craft, 17, a senior at Edison High, is planning to become an ultrasound technician.
"I just want to see how everything gets put back together," Craft said.
Hannah Phair, 18, a senior at Edison, said she comes from a medical family and plans on a career as a physican. She was aware of many of the procedures, she said, but enjoyed the surgery scene, where film of an actual knee surgery played behind the actors.
"I was hoping to see a live surgery," she said with a laugh.
The Hoag event was the institute's first, but may be repeated if other schools show interest, Prietto said.
"It took us a year to put this together," he said. "It was a lot of work."
Tustin-based Vital Link, which helped present the play, works with 30,000 kids each year, introducing them to career possibilities.
The Hoag play was similar to productions Vital Link has done at Saddleback and Kaiser hospitals that demonstrate a gall bladder removal.
Vital Link has also done engineering projects with UC Irvine, where students learn to build model racing cars or to program drones and robots.
Sports medicine is a growing field, Prietto said, making "Back to Play" particularly relevant.
As for Tallo, the ersatz baseball player, in the Hoag production he makes a full recovery and returns to the diamond at full strength.
Click here to read the full article: Students from Huntington Beach, Buena Park get inside look at orthopedic medicine during mock surgery at Hoag