Hoag Orthopedic Institute Named '2017 Top Workplace' by The Orange County Register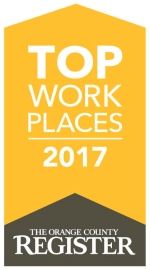 Survey of More than 30,000 Employees Highlighted Top Employers with Highest Job Satisfaction Rates
IRVINE, Calif. [December 11, 2017] – Hoag Orthopedic Institute (HOI), one of the largest providers of orthopedic care in the nation, has been named a "2017 Top Workplace" by The Orange County Register, making it one of the only hospitals included in the 2017 rankings.
The Orange County Register, with the assistance of an employee research firm, received and analyzed questionnaires from 33,759 employees throughout Orange County that asked them to rank their employer on a wide array of things, such as confidence in leadership, alignment with the ethics and values of the organization, feelings of fulfillment, and feeling appreciated and heard.
"Hoag Orthopedic Institute is honored to be included in the '2017 Top Workplaces' list," said Jennifer Mitzner, CEO of Hoag Orthopedic Institute. "The quality of care at HOI is truly incomparable, and that is directly due to the culture of excellence our staff has developed and perfected over time. This survey is an encouraging affirmation that our team feels a sense of ownership and pride in the role they've played in making HOI a nationally recognized health care leader."
The Orange County Register's '2017 Top Workplaces' list was announced in December, 2017.
Hoag Orthopedic Institute, the highest volume provider of joint replacements in California, has received consistent recognition from various publications and health care organizations for its patient-focused services since opening in 2010. For more information on the various accolades the hospital has received, visit: https://www.hoagorthopedicinstitute.com/why-choose-hoi-/.