Hoag Orthopedic Institute Raises Awareness about Osteoporosis and Fragility Fractures During National Osteoporosis Awareness And Prevention Month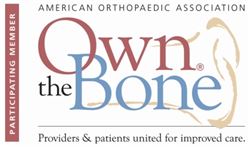 'Own the Bone' Program Advances Osteoporosis Treatment at Institute
IRVINE, Calif. [May 12, 2016] – May is National Osteoporosis Awareness and Prevention Month. Although an estimated 10 million adults in the U.S. have osteoporosis and an additional 43 million have low bone mass, most will go undiagnosed and untreated. A broken bone, fracture, could be deemed a fragility fracture which could be a serious complication of osteoporosis and often the first sign that a person has the disease. Unfortunately, only 20% of the nearly two million individuals who experience fragility fractures each year are tested or treated for osteoporosis. Those fractures are costly; nearly $18 billion in related costs every year. By 2025, experts predict those numbers to rise to nearly 3 million fractures and $25.3 billion in costs each year. It's time to bring attention and awareness to this silent public health epidemic.
Hoag Orthopedic Institute (HOI) has taken steps to ensure its osteoporotic fracture patients receive the treatment and care they deserve through participation in The American Orthopaedic Association's (AOA) Own the Bone® quality improvement (QI) program. Through this QI program, Hoag Orthopedic Institute received the tools to establish a secondary fracture prevention program, or fracture liaison service (FLS), with the goal of preventing future fractures. FLS programs use a care coordinator, often a nurse practitioner or physician's assistant, to help ensure that fragility fracture patients are identified and receive appropriate evaluation, diagnosis, and treatment. HOI uses a clinical nurse specialist, an advanced practice nurse, to manage the program.
Through Own the Bone, HOI focuses on specific evidence-based measures to help improve patient care after a fracture, including: educating patients on nutrition, physical activity, and lifestyle changes; recommending bone mineral density testing; discussing pharmacotherapy and treatment (when applicable); and providing written communication to the patient and their family physician regarding the patient's specific risk factors and treatment recommendations.
Through their enrollment in Own the Bone, HOI has demonstrated a commitment to helping patients understand their risk for future fractures and steps they can take to prevent them. HOI has enrolled more than 150 patients into the Own the Program. The hospital has received special recognition as "Own the Bone Star Performer" for the past two years. This is a designation reserved for sites that achieve higher than a 75% compliance rate for at least five of the ten 'Own the Bone' prevention measures.
The HOI team also proactively hosts initiatives at local schools and senior community centers to educate kids and the at-risk aging community on osteoporosis prevention tips.
"'Own the Bone' is a proven program at Hoag Orthopedic Institute that gives patients a better understanding of their fragility fractures," said Marisa Swain, a clinical nurse specialist responsible for overseeing the program at HOI. "Through this program, we have been better equipped to provide quality care and service to our patients."
What can patients do to protect their bones?
Get adequate calcium and vitamin D, either through diet or supplements, if necessary.
Engage in regular weight bearing and muscle strengthening exercise.
Avoid smoking and limit your alcohol to 2-3 drinks per day.
Have you or a loved one had a broken bone over age 50? Talk to your health care provider and get a bone density screening to determine if osteoporosis might be the cause and learn additional steps you might need to take to prevent future fractures.
For more information about HOI, visit: http://orthopedichospital.com.