Hoag Orthopedic Institute Celebrates 5th Anniversary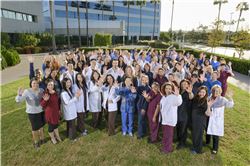 Nationally Recognized Orthopedic Leader in Orange County Turns Five Years Old
IRVINE, CA (Nov. 12, 2015) – Hoag Orthopedic Institute (HOI) officially celebrated its 5th anniversary on Tuesday, November 10, 2015. In five years, HOI has grown into one of the top orthopedic hospitals in the nation, with countless, national accolades affirming its high quality of care.
Established in 2010 through a unique partnership between Hoag Memorial Hospital Presbyterian and numerous Orange County orthopedic physicians, HOI is a specialty hospital that focuses exclusively on orthopedics. Its commitment to quality clinical outcomes and patient-centered care has led to numerous achievements throughout the five years it has been in operation.
"Every single employee and physician contributed to HOI's incredible accomplishments and successes," says Carlos Prietto, MD, president of Hoag Orthopedic Institute. "HOI is outstanding because the HOI team is outstanding."
At its inception, HOI's vision was to become a trusted leader in orthopedics both locally and nationally, and over the course of five years, after earning several prestigious awards and becoming the highest volume provider of joint replacements in California, HOI has kept its promise and strives to aim higher in the coming years.
"The culture of excellence and pride in performance that has been fostered and refined here is unlike anything I've ever witnessed," added Dereesa Reid, CEO of HOI. "I'm truly honored to be a part of what Hoag Orthopedic Institute has become for our staff and for those we care for in such a short period of time."
Ranked a 'Best Hospital' multiple times by U.S. News & World Report, HOI was the first hospital in Greater Los Angeles to receive a CMS 5 Star Rating for patient experience. It received Consumer Reports' highest rating for hip and knee surgery and was ranked first place by Nerd Wallet for knee and hip procedures. HOI has also received the highest possible rankings from Becker's Hospital Review for orthopedic programs and its low readmission rates and Press Ganey for HCAHPS (patient satisfaction) scores. HOI was recognized as a top performer in the treatment of fragility fractures and bone healthcare by the American Orthopaedic Association. Moreover, its unique and effective model of care was profiled in a case study authored by researchers from Harvard Business School.
HOI routinely gives back to the community, providing charitable care, volunteering for local high school sporting events, offering free community lectures and educational events, and most recently, renewing its annual gift by giving a $50,000 grant to the Irvine Public School Foundation to support the district's athletic trainers.
To learn more about HOI, visit www.orthopedichospital.com.
About Hoag Orthopedic Institute
Hoag Orthopedic Institute (HOI) is located in Orange County, California. It consists of a 70-bed hospital located in Irvine and two ambulatory surgery centers: Orthopedic Surgery Center of Orange County in Newport Beach and Main Street Specialty Surgery Center in Orange. HOI has more than 300 physicians on staff, including over 80 orthopedic specialists. Achievements in patient safety and satisfaction, and growth initiatives have propelled HOI to become the highest volume provider of joint replacements in California. The physicians collaborate on more than 10,000 orthopedic procedures annually. HOI ranks in the 98th percentile for willingness to recommend the hospital and in the 97th percentile for overall hospital rating according to the Hospital Consumer Assessment of Healthcare Providers and Systems (HCAHPS). HOI focuses in the treatments of the knee, hip and spine disorders, and takes pride in specialty care related to sports medicine, orthopedic trauma and extremities care. Since opening in 2010, HOI's hospital has been named by U.S. News & World Report and Becker's Orthopedic, Spine & Pain Management Review as one of the top orthopedic hospitals in the nation. For more information, visit www.orthopedichospital.com.