National Osteoporosis Awareness and Prevention Month
Hoag Orthopedic Institute Raises Awareness about Osteoporosis and Fragility Fractures During National Osteoporosis Awareness and Prevention Month
May is National Osteoporosis Awareness and Prevention Month. Although an estimated 9 million adults in the U.S. have osteoporosis and an additional 43 million have low bone mass, most will go undiagnosed and untreated. A broken bone, also known as an osteoporotic or fragility fracture, can be a serious complication of osteoporosis and is often the first sign that a person has the disease. Unfortunately, only 20% of the nearly two million individuals who experience fragility fractures each year are tested or treated for osteoporosis. Those fractures are costly; nearly $18 billion in related costs every year. By 2025, experts predict those numbers will rise to nearly three million fractures and $25.3 billion in costs each year.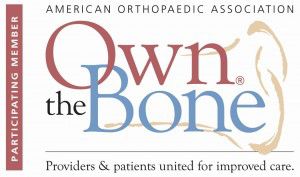 Hoag Orthopedic Institute (HOI) felt it was time to bring attention and awareness to this silent public health epidemic, so in November 2013 it launched the American Orthopaedic Association's (AOA) Own the Bone program. Through this program, hip fracture patients who are 65 years of age or older are identified and receive tools and information from a dedicated multi-disciplinary team with the goal of preventing future fractures.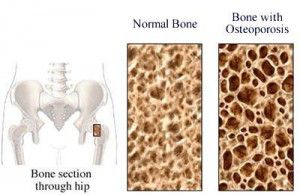 "We are all very excited about the impact that this multi-specialty program is already having on our patients here at Hoag Orthopedic Institute," said Marisa Swain, a clinical nurse specialist responsible for overseeing the program at HOI. "'Own the Bone' is proving to be an essential tool in helping to reduce fragility fractures in our community."
Additionally, HOI focuses on specific, evidence-based measures to help improve patient care after a fracture. This includes nutritional assessment and education by a Registered Dietitian, safety and progression of physical activity coordinated by a Physical Therapist and/or Occupational Therapist, and lifestyle changes or modifications by a Clinical Nurse Specialist (CNS) and physician. During follow-up phone calls to patients, which occur 60 – 90 days after a fracture, the CNS discusses key points from the education initiated in the hospital and reviews other prevention measures for future fractures.
To help promote National Osteoporosis Awareness month this May, HOI would like to pass along a few tips on what the community can do to help protect their bones:
Get adequate calcium and vitamin D, either through diet or supplements, if necessary.
Engage in regular weight bearing and muscle strengthening exercise.
Avoid smoking and limit your alcohol to 2-3 drinks per day.
Have you or a loved one had a broken bone over age 50? Talk to your health care provider and get a bone density screening to determine if osteoporosis might be the cause and learn additional steps you might need to take to prevent future fractures.
"Here at HOI, we are continuously looking for ways to improve the safety and wellbeing of our patients," said Dr. Alan Beyer, Principle Investigator on the quality improvement program. "We are so proud to have a program like this that makes our patients feel confident and empowered by taking a few measures to prevent bone fractures."
# # #
About Hoag Orthopedic Institute
Hoag Orthopedic Institute (HOI) is located in Orange County, California. It consists of a 70-bed hospital located in Irvine and two ambulatory surgery centers: Orthopedic Surgery Center of Orange County in Newport Beach and Main Street Specialty Surgery Center in Orange. HOI has more than 300 physicians on staff, including over 80 orthopedic specialists. Achievements in patient safety and satisfaction, and growth initiatives have propelled HOI to become the highest volume provider of joint replacements in California. The physicians collaborate on more than 10,000 orthopedic procedures annually. HOI also ranks in the 99th percentile for both overall hospital rating and likelihood of recommending the hospital, according to HCAHPS. HOI focuses in the treatments of the knee, hip and spine disorders, and takes pride in specialty care related to sports medicine, orthopedic trauma and extremities care. Since opening in 2010, HOI's hospital has been named by U.S. News & World Report and Becker's Orthopedic, Spine & Pain Management Review as one of the top orthopedic hospitals in the nation. For more information, please visit http://orthopedichospital.com.
About the AOA
The American Orthopaedic Association, founded in 1887, is the oldest national orthopaedic association in the world. The AOA's mission is to engage the orthopaedic community to develop leaders, strategies, and resources to guide the future of musculoskeletal care. For more information, visit www.aoassn.org or call (847)318-7336.