Hoag Orthopedic Institute Earns 2014 Press Ganey Guardian of Excellence Award for Performance in the 95th Percentile in Patient Experience
Posted On:
Written By:

jchisum

Hoag Orthopedic Institute Receives 2014 Press Ganey Guardian of Excellence Award for Achieving 95 thPercentile in Overall Patient Experience


IRVINE, Calif. – Hoag Orthopedic Institute (HOI) was awarded the 2014 Guardian of Excellence Award by Press Ganey Associates, Inc. at their annual awards banquet in November. The Guardian of Excellence Award recognizes top-performing facilities that consistently achieved the 95 th percentile or higher for performance in Patient Experience.
The award was earned as a result of achieving excellent patient satisfaction survey scores. HOI maintained an aggregate overall score of at least 95% for all surveys received each quarter between 5/1/2013 and 4/30/2014. This performance places HOI in the top 5% of all of Press Ganey's client hospitals and hospital systems.
HOI has recognized the importance of constantly improving and tailoring their delivery of care since opening their doors in November of 2010. One of the efforts to increase satisfaction of patients and visitors includes the designation of 2:00–4:00 p.m. each day as "Quiet Time," another 'Quiet Hours' period is announced nightly at 9 p.m. During this time period, patients are encouraged to nap or rest and extra emphasis is put on keeping the environment quiet and tranquil to allow for this. There is a "Quiet Team" that oversees this and other initiatives to ensure that patients have a quiet and soothing atmosphere in which to recuperate.
"We are so proud of the exceptional work done by our entire staff to enable us to achieve this noteworthy honor," said Dereesa Reid, CEO of Hoag Orthopedic Institute. "The award is a testament to our culture and team-approach to providing the highest quality patient-centered care at HOI."
The Press Ganey Guardian of Excellence Award is a nationally-recognized symbol of achievement in health care. Presented annually, the award honors clients who consistently sustained performance in the top 5% of all Press Ganey clients for each reporting period during the course of one year.
"The initiatives we have implemented at HOI, such as our preoperative education class, Quiet Time and our streamlined discharge protocols, have helped us to create a more functional, harmonious environment for our patients and staff," said Kanoe Allen, HOI's Chief Nursing Officer. "Our hospital provides patients a serene healing space where they feel safe, comfortable and important."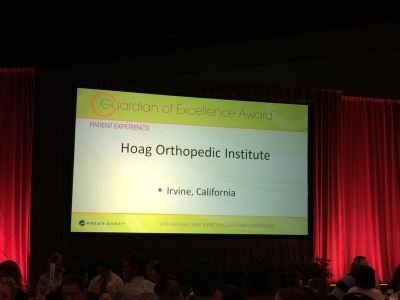 HOI has also implemented staff education programs such as the patient experience station during its annual Orthopedic Skills Days, which educates staff on patient satisfaction, setting expectations and service recovery, monthly patient experience presentations for Charge Nurses, and quarterly patient experience presentations to medical and surgical staff at mandatory staff meetings where new initiatives, patient satisfaction scores and improvement solutions are discussed.
"These programs are truly producing positive results here," added Carlene Parrish, Quality and Patient Relations Specialist at HOI. "We look forward to viewing our future outcomes and continuing in our trek to provide the best patient-centered care possible."
###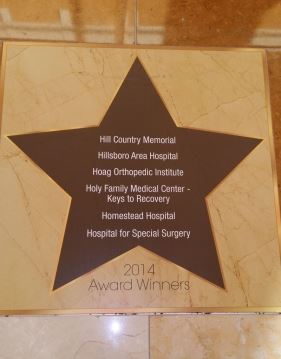 About Hoag Orthopedic Institute
Hoag Orthopedic Institute (HOI) is located in Orange County, California. It consists of a 70-bed hospital located in Irvine and two ambulatory surgery centers: Orthopedic Surgery Center of Orange County in Newport Beach and Main Street Specialty Surgery Center in Orange. HOI has more than 300 physicians on staff, including over 80 orthopedic specialists. Achievements in patient safety and satisfaction, and growth initiatives have propelled HOI to become the highest volume provider of joint replacements in California. The physicians collaborate on more than 10,000 orthopedic procedures annually. HOI ranks in the 98th percentile for willingness to recommend the hospital and in the 97th percentile for overall hospital rating according to the Hospital Consumer Assessment of Healthcare Providers and Systems (HCAHPS). HOI focuses in the treatments of the knee, hip and spine disorders, and takes pride in specialty care related to sports medicine, orthopedic trauma and extremities care. Since opening in 2010, HOI's hospital has been named by U.S. News & World Report and Becker's Orthopedic, Spine & Pain Management Review as one of the top orthopedic hospitals in the nation. For more information, visit www.orthopedichospital.com.
Press Ganey Associates, Inc.
Recognized as a leader in performance improvement for nearly 30 years, Press Ganey partners with more than 11,000 health care organizations worldwide to create and sustain high-performing organizations, and, ultimately, improve the overall health care experience. The company offers a comprehensive portfolio of solutions to help clients operate efficiently, improve quality, increase market share and optimize reimbursement. Press Ganey works with clients from across the continuum of care – hospitals, medical practices, home care agencies and other providers – including more than 50% of all U.S. hospitals. For more information, visit www.pressganey.com.