Preventing Surgical Infections with Robotics
According to the Center for Disease Control (CDC), three percent of all surgeries performed in the United States end in mortality due to a surgical site infection. Even with improvements in sterilization, technique and ventilation, these numbers are still too high. Chief Medical Officer of Hoag Orthopedic Institute, Dr. Robert Gorab, shares some insight into the future of infection prevention and how HOI has managed to keep its rates so much lower than national and state levels.
Why is infection control such a huge focus for the Hoag Orthopedic Institute (HOI)?
We want to be the best at what we do. HOI's vision is to be a trusted leader in orthopaedic care and medicine, recognized internationally for our superior clinical outcomes.
How frequently do infections cause readmission in orthopedic patients?
HOI has one of the lowest if not the lowest, surgical readmission rate in the State of California. Our all-cause readmission rate is 3.3% and our joint replacement readmission was at 1.8% based on published CMS reports we received in September 2013.
Our readmission for surgical site infections is less than 1% of our overall surgical volume, far below the national average.
How has the ability to control infection changed with technological advancements?
Technology only helps if you use it correctly and follow the guidelines and recommendations. If you have technology and you don't use it properly, it doesn't do anything to control infection. It is about preventing infections in the first place.
Please can you tell us about the new robot that HOI have acquired to help reduce infection rates?
HOI has invested in a pulsed xenon UV disinfection system named "Xena", but that might change. We are thinking of renaming her.
HOI has a very low infection rate to begin with and so there was a lot of discussion as to whether we wanted to invest in this technology. We felt that any reduction in infection rate would make this valuable despite the relatively high cost for this device.
How does this technology work?
"Xena" is a machine that uses pulsed xenon UV light that passes through the cell walls of bacteria, viruses and spores and gets absorbed by the DNA, RNA and proteins and creates thymine dimers. Once this happens, the cell cannot replicate and becomes deactivated, thus eliminating these pathogens from the exposed environment.
What impact do you think this robot will have on infection control at HOI? What are the limitations of Xenex?
This technology really shows HOI's commitment to having zero infections. We want to be a leader in orthopaedic clinical outcomes and this is a physical reminder to everyone of how serious we are about being a recognized leader in the field.
What are the limitations of Xenex?
"Xena" is loud and is effective within her "line of site". Our EVS team still must do terminal cleaning for each of the rooms and then "Xena" is brought in to finish the job.
She is positioned in the room, goes through a ten-minute germ zapping cycle, and then is repositioned in another part of the room to make sure that all the areas have been reached.
Staff turn beds, flip mattresses, open and close drawers and doors. So every area of the room and equipment is exposed to the UV rays. This adds an additional 20-30 minutes to our terminal cleaning process for each room.
Our EVS team is committed to this extra process in their routine. They understand that this adds an extra layer of protection to help HOI prevent an infection from occurring.
What do you think the future holds for infection prevention?
Patients and payers are asking for transparency in outcomes, including infection rates, and we feel obligated to make a positive impact in this regard.
You will see more public reporting by hospitals and doctors on infections as well as read missions after surgical procedures. There will be plenty of reporting, discussion, and web based information on this topic.
We are happy to share our data with the public so that they can make an informed decision as it relates to their orthopaedic care.
Where can readers find more information?
You can learn more about Hoag Orthopaedic at www.hoagorthopedicinstitute.com
You can learn more about Xenex at www.xenex.com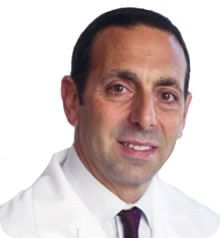 Dr Gorab is a board certified orthopedic surgeon practicing in Orange, California. He is the Chief Medical Officer of Hoag Orthopedic Institute in Irvine, Calif., and is one of the managing partners of Orthopaedic Specialty Institute, the largest subspecialty orthopedic surgery practice in Orange County comprised of 17 orthopedic specialists.
Dr Gorab's practice is limited to joint replacement and arthritis surgery and he performs more than 550 joint replacement procedures per year.
He is an attending physician and former department chairman at St Joseph Hospital in Orange, and an Associate Professor of Orthopedics at the University of California, Irvine School of Medicine.
He is a member of the American Association of Hip and Knee Surgeons, the American Academy of Orthopaedic Surgeons, the California Orthopaedic Association, and the Western Orthopaedic Association.
Dr Gorab received his undergraduate education at Colgate University in Upstate New York.
He completed his medical education at the University of Pittsburgh, graduating as a member of Alpha Omega Alpha national medical honor society and receiving the Lange Outstanding Achievement Award from the university.
Dr Gorab completed his surgical internship and orthopaedic residency at the University of California, Irvine. He then completed an additional fellowship year in joint replacement and arthritis surgery at the renowned Cleveland Clinic Foundation in Cleveland, Ohio.