Employee and Doctor of the Season – Fall
Hoag Orthopedic Institute would like to congratulate our newest Employee and Doctor of the Season!
Just in time for Fall!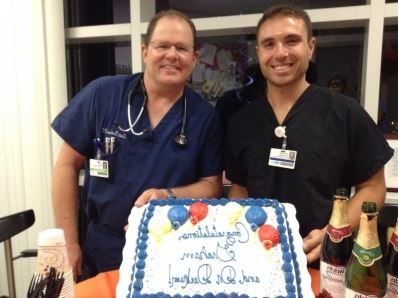 Dr. Scott Derkum works the night shift as a hospitalist and has been nominated by the staff as our Doctor of the Season. He is highly valued, especially by the night shift staff, for being approachable and reliable. Even if he is not on call for our staff and he is swamped with other patient calls he will always make time for us, if we need assistance. He is thorough in his assessments and thoughtful in his care. What is truly valued by the nursing staff is the time he will spend with our patients ensuring that they and their families are knowledgeable of the care they will be receiving. Dr. Derkum is an asset to us at Hoag Orthopedic Institute and we truly appreciate him.
Graham Gerrard works as a tele tech and clerical coordinator on the 2nd floor and has been nominated by his peers as the Employee of the Season! Graham is described as a hard worker that always goes above and beyond to help the patients and our team. Graham is always finding ways to help, if that's in a patient's room refilling their water pitchers, giving out blankets, or just talking with them to ease their anxiety. Along with his positive attitude and reliable nature, Graham is invaluable as a tele tech as he is very knowledgeable and pays close attention to detail. Graham is a true reflection of HOI pride!