NAON Presentation - Susanne Porter
Category: News
Posted On:
Hoag Orthopedic's very own Susanne Porter, RN, MSN, FNP-C, CRNFA, CNOR spoke at the National Association of Orthopaedic Nurses' (NAON) 38th Annual Congress on Enhanced Recovery Program (ERP) for Total Joint Replacement. This event aims to implement practice changes based on research, impact patient outcomes through adoption of best practices and innovation, and contribute to a professional environment that encourages collegiality and networking among participants.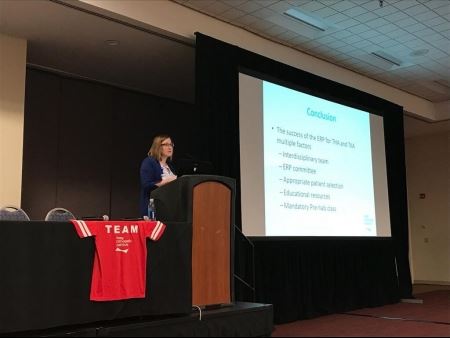 During her presentation, Porter emphasized that healthy patients who meet very strict criteria for an ERP can proceed with an elective total joint replacement surgery by using safe and effective perioperative pathway. She discussed how an interdisciplinary team approach was utilized to initiate the program on June 1, 2015 at Hoag Orthopedic Institute in Irvine, California and that patient satisfaction and safety were the driving forces behind initiating the ERP. Additionally, appropriate patient education and patient selection with a strong multidisciplinary support system help to provide a safe and effective pathway. Through performance improvement initiatives in pre-operative hydration, pain management, and in surgical anesthesia, patients can tolerate physical therapy intervention within an earlier timeframe allowing for same day discharge for THA and overnight stay for TKA. Decreased length of stay results in higher patient satisfaction and an accelerated return to function post-operatively.