Staff Spotlight: Pamela S. Mangen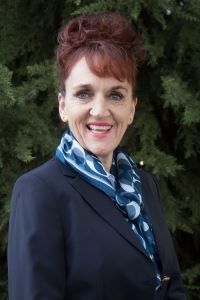 As the clinical nurse manager at Hoag Orthopedic Institute, Pamela Mangen has a passion for health care—something that her daughters picked up on. Pamela's oldest daughter just received her PhD in Immunology from Cornell Medical University and her youngest daughter is an RN. While not in the medical field, her youngest son will be graduating soon from UCSD Revelle College with his BS in Physics and a minor in business. Pamela's oldest son works for a state senator and her middle son was just recently honorably discharged from the U.S. Air Force.
She sometimes assists as Medical Director for her husband's SEC registered securities broker dealer firm, of which he is the CEO, providinh her insight whenever they are negotiating ratings on a risk with the insurer's chief medical officer.
Pamela will graduate from Cal State Fullerton with an MSN in May and has recently had her thesis published in a professional magazine.
Why She Chose Hoag Orthopedic Institute
Pamela loves the staff and environment at Hoag Orthopedic Institute. She enjoys how upbeat and positive the atmosphere is and looks forward to walking the hallways and greeting patients. Before getting the job at HOI, Pamela was serving as a charge nurse in the cardio / telemetry environment. She felt the pull to move into a more global role in healthcare and quickly accepted the job when Hoag Orthopedic Institute called.
Making Patients the Number One Priority
Pamela strongly believes that patients should always be the first priority! One example of this perspective was the institute's treatment of a homeless patient. The man came to the unit from the ER and the staff found out he hadn't taken a bath for over a week. He also had only had the clothes on his back and no shoes. Pamela and others got to work right away providing a little extra care for the man. They found clothes for him and got him a 3-hour bath! This experience had a great impact on Pamela and solidified how important patient care is to her.
Pamela also regularly gives blood to the Hoag Blood bank. She just recently obtained her Six Gallon Blood Donor Platinum Achievement Award—an award that comes after 10 years of donating a pint of blood every 8 weeks or so.
She also cares about the local community. Pamela is a dedicated member of the 552 Club of Hoag Foundation, volunteers as a camp nurse for a Big Bear Mountain all-girl's retreat, and also donates her time to the Food Distribution Center for the poor in San Juan Capistrano.
Pamela cites her parents, Ronald Reagan, and Gandhi as her mentors, influences that can be seen in her commitment to her patients and her community.
Check back in with the blog to learn more about our other caring staff members!